Bryn Eglur
An authentic traditional Welsh Cottage set in a remote location with one of the best preserved Welsh Cottage interiors (built 1755).
2 Bedrooms interconnected
1 Bathroom
'Stargazing in rustic cottage.'
Availability & Booking
All reservations and bookings for Bryn Eglur are managed by Under The Thatch. Click below to check availability and pricing.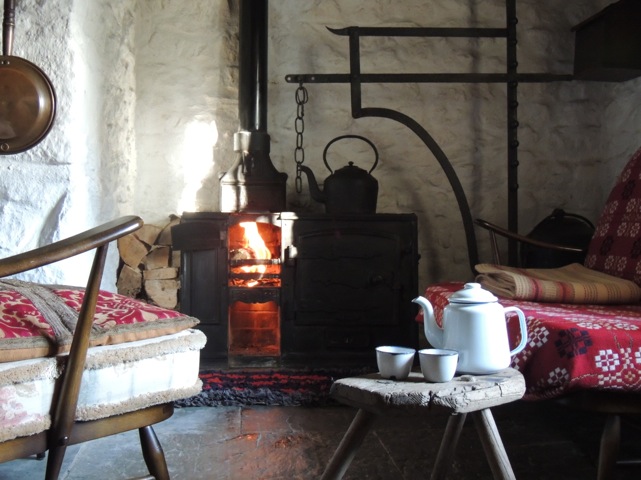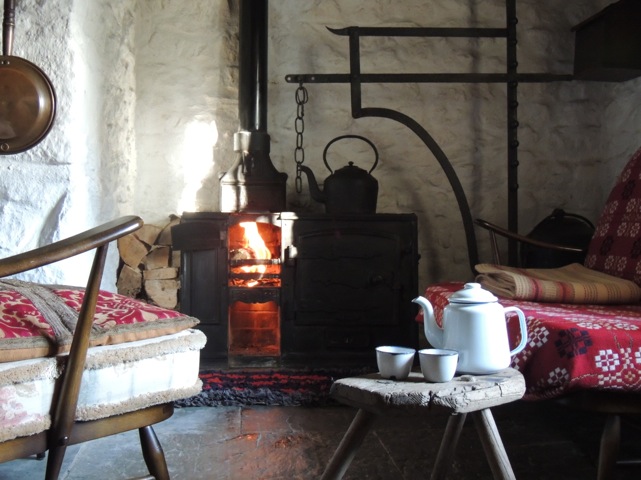 Details
Bryn Eglur is a traditional Welsh Cottage, as featured in Channel 4's, 'The Perfect Home' and described by Alain de Botton as 'a meticulous recreation of an ancient farmhouse cottage, and ideal for anyone who wants to return to a vision of rural simplicity and rustic charm'. It has also been featured in World of Interiors and named by Sally Shalam as one of the 'Top 10 stays of the decade'.
Bryn Eglur (meaning 'Clear Hill') in rural Carmarthenshire presents a purely traditional facade to the outside world, only when you push open the door into the lofty, sunlit kitchen do you realise that this Welsh cottage is a real 'step back in time.'
Built in 1755 as a simple tyddyn (a smallholder's cottage ) with a kitchen and parlour downstairs, two interconnected bedrooms upstairs, and a cowshed attached to one side.
The two-up, two-down is still here, its tiny rooms carefully preserved and accurately restored, but the cottage now incorporates the cowshed next door which brings a modern sense of space and light to the property.
Accommodation
Bryn Eglur sleeps up to four people:
Two Bedrooms
Master double bedroom with interconnected second bedroom and antique Welsh box bed.
Living room
Original kitchen containing an impressive inglenook fireplace with Welsh Country antiques set against the lime-washed walls.
Parlour
A peaceful room with more Welsh antiques and doorway leading to the new kitchen.
Kitchen
Former cowshed converted to kitchen with rayburn stove (solid fuel), large kitchen table with a range of kitchen appliances.
Bathroom
Ground floor in former dairy with roll top bath and modern fittings.
Outside
Kitchen door opens onto the gardens and countryside beyond which are yours to explore.
Location
Remote rural seclusion in peaceful Carmarthenshire, West Wales within easy access of the M4 motorway.
The nearest train station is Carmarthen which is a 20 minute drive away.
Click the pointer on the map to be taken to a larger version on Google Maps.
Notes
Rustic authentic interior with fewer modern conveniences.
Although the cottage is remote it is adjacent to another property but the relationship between them ensures privacy and seclusion. If you want to make a multiple booking sleeping a total of 7 people check availability at Ty Unnos.
Mobile reception is poor depending on your network.
Due to the remote rural location there is no television or WiFi/internet access.
Antique beds are slightly narrower than a standard double.
Features like steps, narrow doorways, restricted headroom and a small bathroom might cause access or mobility issues.
Access along the track is fine for most cars but low slung sports cars may struggle.
A starter basket of logs is provided for the open fire/stove but we recommend that you bring additional supplies of logs/coal.
Well-behaved pets accepted.
Availability & Booking
All reservations and bookings for Bryn Eglur are managed by Under The Thatch. Click below to check availability and pricing.
Press
Bryn Eglur has been featured in the following publications and on the following websites.